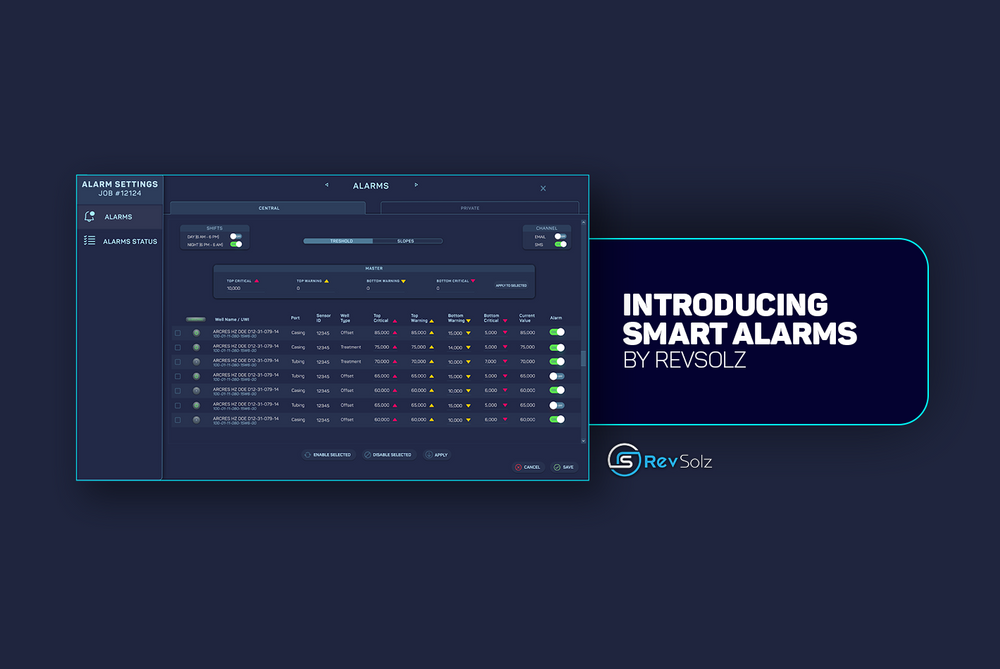 We've had quite an exciting few months with many new features and possibilities coming our way.
One of our newest features is the Smart Alarm!
Our new Smart Alarms provide a secure, customized, and reliable alert system both for field and office users.
We have developed a customized push notification system for flexibility and comfort. We listen to our users, understand their needs, and deliver a reliable & comfortable working environment for them.
Now, you can pick and choose your preferred push notification channel (Email, Text, Or both), select your work shift (Day and/or Night) and decide whether you set alarms for everyone or yourself (Central or Private).
Unique algorithms are applied for any well-monitoring conditions. Users may define thresholds (magnitudes) or slopes (intensities) to trigger alarms for any given anomaly on offset or treatment wells.
We enabled flexibility to subscribe to any well that the user is willing to receive push notifications from. Set the alarms for all wells and select which wells at your most concern and we will take care of the rest.
If you want to set alarms differently than the field crew, not a problem. You may use the "Private" tab to set your own thresholds or slopes to be authenticated and we will send the push notifications only to you as soon as they are triggered.
Depending on your work shift and importance, you may prefer to be in control of when to receive notifications (Day and/or Night).
Keep the log of triggered or resolved alarms all the time. This will give you control of wells that have been triggered & continues to surpass the set conditions (slope & thresholds) and those which have been resolved & conditions (slope & thresholds) are falling behind.
Stay tuned for more exciting news!